My name is Efrain, and this is my weekly column on my journey to becoming fluent in Chinese with TutorMing. You can check out why I want to learn Chinese in my introduction here.
This week, I learned how to flirt in Chinese. Instead of taking my usual 1-on-1 Chinese lesson, I decided to take advantage of TutorMing's free weekly webinars. These fun 30-minute sessions are a great way to practice my listening and understanding, even if it doesn't give me the benefits of a private tutor. Plus, I was certainly interested to see what new "terms of endearment" I could learn.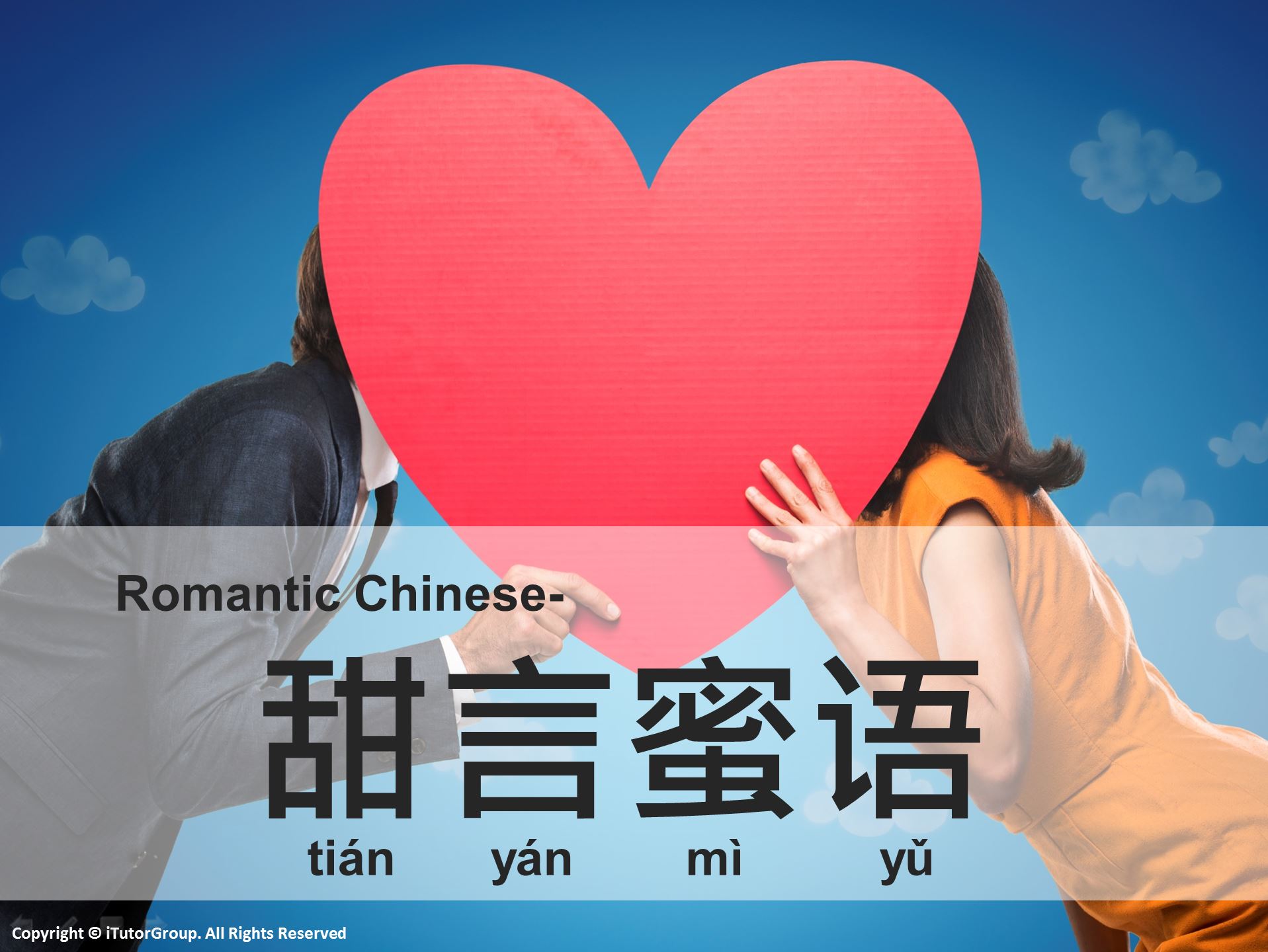 甜言蜜语 (Tián yán mì yǔ) literally means, "sweet speech honey language" however, it's best translated in English as "sweet nothings." Do you have someone special in your life? If so, you can learn some phrases to say to them on a special holiday, like Chinese Valentine's Day. Then again, who needs a holiday to do so? There will always be opportunities to express how you feel to someone you care about. Whether it is that you're single, in a relationship, or would like to let a family member know how much you love them, it is a good idea to learn some basic words and phrases on the subject.
Related: How to say I love you in Chinese. Actually.
The terms, "you 你 (nǐ)", "he 他 (tā)", "she 她 (tā)", and "I/me 我 (wǒ)", were staples of this session. As a situational-based lesson, I learned a few new vocabulary words that I could work into some new phrases. "亲爱的 (Qīn ài de)", meaning "dear" or "darling", was used in combination with a new phrase, "好久不见 (hǎo jiǔ bù jiàn)." "好久不见 (hǎo jiǔ bù jiàn)" directly translates to "long time no see", and is said to be where the (gramatically incorrect) English phrase originated from. Another thing I found surprising was 想 (xiǎng) seems to be used for everything. In my previous class I learned to use 想 (xiǎng) differently, but "我好想你 (Wǒ hǎo xiǎng nǐ)" in this context means, "I miss you" in combination with 好 (hǎo). You can say, "我也好想你 (Wǒ yě hǎo xiǎng nǐ)" in response if you miss them too!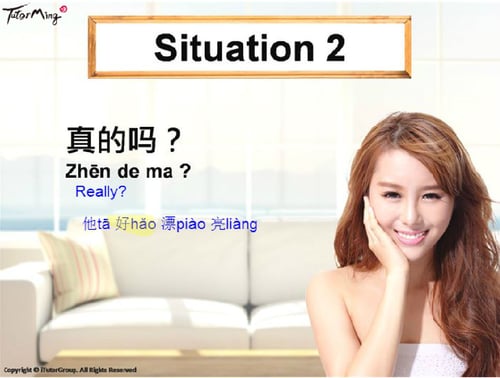 Another popular affectionate term is "宝贝 bǎo bèi", meaning "babe" or "baby." Others within the class even added to the word using "很漂亮 (hěn piào liang)" to say "babe" is "very pretty."
In the following scenario, the instructor played the part of the boyfriend. In response to "I miss you," the girlfriend in the next slide ask, "真的吗" meaning "really?" To reassure his girlfriend, the boyfriend can reply, "真的 (zhēn de)" or "Really!"
真的吗 (Zhēn de ma) becomes a statement by removing the question word 吗 (ma). This is when we are taught we can follow up with this phrase 我每天每分每秒都想你 (Wǒ měi tiān měi fēn měi miǎo dōu xiǎng nǐ). "Every day, every minute, every second, I miss you" is really hard to pronounce correctly. (Want an even harder challenge? Try these Chinese Tongue Twisters.) For me, in the event my sentiments are ever questioned, I will stick to the simple way to reaffirm my loved one using "真的 (Zhēn De)." As a romantic and a beginner, I am still a man of few words (literally).
Related: Butterfly Lovers: The Chinese Romeo And Juliet
Of course with all that being said, I am still no love expert. If all else fails, ask them out to eat using the phrase, "你想吃一点东西吗 (Nǐ xiǎng chī yī diǎn dōng xī ma)?" It translates to, "Do you want to eat a little something?" This was one of the few phrases I memorized before learning with an actual tutor, which until recently I had been pronouncing it incorrectly. (Oh, the disadvantages of audio-learning.) So if you would like to ask someone out, my best advice is food. Everybody loves food. Besides that my guess is as good as yours. This was a fun class, I feel like people may actually learn faster this way, and I look forward to learning more. I wonder if there are any pick-up lines in Chinese?
Are there any "romantic" words or phrases you know? Try using the grammar and vocabulary in the comments below. Thanks for reading!
Sentence Structure Review
我每 wǒ měi ____ (measurement of time) 都 dōu _____ (subject)
Example: 我每天每分每秒都想你 (Wǒ měi tiān měi fēn měi miǎo dōu xiǎng nǐ)
Translation: I miss you every second, every minute, every day.
Vocabulary List
| | | |
| --- | --- | --- |
| 亲爱的 | Qīn Ài De | Dear |
| 宝贝 | Bǎo Bèi | Baby/Babe |
| 女朋友 | Nǚ Péng Yǒu | Girlfriend |
| 男朋友 | Nán Péng Yǒu | Boyfriend |
| 漂亮 | Piào Liang | Pretty |
| 美丽 | Měi Lì | Beautiful |
| 帅 | Shuài | Handsome |
| 喜欢 | Xǐ Huān | Like |
| 好想 | Hǎo Xiǎng | Miss (feeling) |
| 爱 | Ài | Love |
| 也 | Yě | Also |
| 你 | Nǐ | You |
| 他 | Tā | He/Him |
| 她 | Tā | She/Her |
| 每 | Měi | Every/Each |
| 都 | Dōu | All/Entirely |
WANT TO LEARN MORE? SIGN UP AND BEGIN YOUR OWN PATH TO FLUENCY TODAY!