Finding time to learn Chinese can be really complicated, especially when you have to combine it with work, studies, leisure, and other things important to you. Fortunately, we live in an era where technology is now part of our daily life, and where Chinese-teaching materials can be found directly on our personal devices.
I studied Mandarin at university, so I used to have Chinese classes almost every day. After graduating, I decided to continue to study it by myself. In this article, I will share with you all the apps and websites I am using on a regular basis to strengthen my Mandarin skills, from reading and writing to listening and speaking.
1- TutorABC Chinese: to Study Chinese Online with Amazing Certified Teachers



A foreign friend recommended me TutorABC Chinese online Chinese classes. Since they offer a free demo class to anyone who wants to test it, I decided to give it a try, and since, I am hooked. Indeed, this is the only teaching service I know who covers speaking, listening, reading, and writing.
I was nervous the first time because I had never had an online Chinese class before, but TutorABC Chinese teachers are very nice and know how to make us comfortable. After a few minutes having class with them, it feels like we are in the same room.
On the left of the interface, we can see the teacher's face, a chat box, as well as online members. The rest of the screen is a digital whiteboard the teacher uses to display annotations or teaching materials.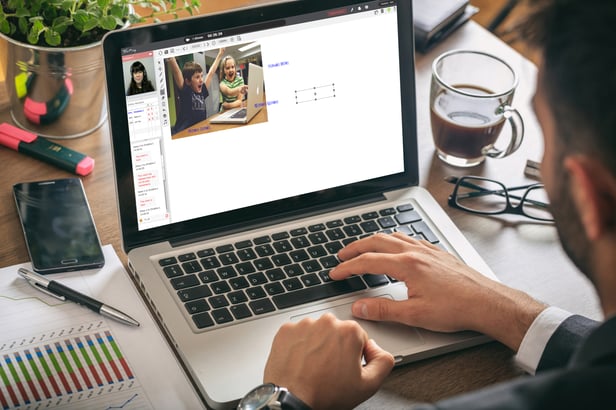 •
Practice of the listening and speaking skills
Every Chinese class I take with TutorABC Chinese allows me to keep a conversation on different topics for one hour straight, which is benefic for my speaking and listening skills. If you started learning Chinese not a long time ago and don't feel confident enough to hold a whole conversation in Mandarin, don't be scared. TutorABC Chinese's teachers can switch to English anytime you need to make your class more understandable.
• Practice of the reading skills
During the entire class, the teacher will drop teaching materials on the screen and make me read it. Every time I read it, we'll go through sentences I don't understand as well as new vocabulary, so that he/she can explain it more precisely. Thus, I constantly learn new words.
• Practice of the writing skills
To practice my writing skills, I keep my pencil and notebook next to me for every class, so that I can write down the new vocabulary. If you have nothing to take notes, know that all of your classes are automatically recorded and the video is saved on your TutorABC Chinese account so that you can review everything that was mentioned during it and practice your writing after the class.
• Result of my experience
What convinced me to choose TutorABC Chinese online Mandarin classes instead of traditional classes in a Chinese language center is that TutorABC Chinese allows me to create my own schedule. Indeed, because of my unstable work schedule, I am not able to follow a given class schedule. By using TutorABC Chinese, I can organize my class schedule, and I am able to cancel it four hours before the class starts if an impromptu event occurs.
I have been so impressed by TutorABC Chinese online Chinese lessons that I decided last year to join their team and write blog articles for them from time to time.
2- CHINESE READING PRACTICE: TO STRENGTHEN YOUR CHINESE READING SKILLS
I discovered this website a few months after starting to study Chinese, and I have been hooked since. Chinese Reading Practice website, as it is called, helps students like us learning Chinese to improve their reading skills by giving them access to a lot of children stories, textbook passages, songs, poems, jokes, riddles, essays, etc… that suits students from the beginner to advanced level.
All of their content provides an English translation, and when you don't know the meaning of a character, you can move your mouse pad on it and it will tell you automatically what it means and how to pronounce it.
I usually try to read one or two stories per week during my lunch break at work. I also write down new vocabulary on post-its that I stick next to my computer so that I have a list of new words to check and learn all the time.
3- Youtube video channels: to Improve Your Chinese Listening Skills While Having Fun
For those who remember, I wrote an article a few weeks ago listing all of my favorite funny Youtube channels to improve Chinese listening skills. While some videos fit perfectly for beginners, others suit advanced students the best. I like to watch these videos when I am taking the metro or just doing nothing on my sofa.
If you want to learn basic Chinese or follow grammar lessons, you can find a lot of Chinese lessons videos just by typing "learn Chinese" or "Chinese lessons". Youtube is a gold mine for practicing Chinese.
4- Pleco: an Essential Dictionary App for Mandarin Learners

If you are already studying Chinese, you probably know Pleco. Pleco is the number one Chinese dictionary app in the world. It is a must-have for every English-speaking student who is learning Chinese. The app features a clean, fairly intuitive, easy-to-use design. In the same search bar, you can type either pinyin for Chinese phrases, or English words. The app is smart and immediately ranks the most commonly used and searched for phrases at the top.
When I text with my local friends and receive a sentence I can't read, I directly copy it on Pleco and check what every word means. With Pleco, you can also add the vocabulary you want to learn in different bookmark files. For example, they can be separated by verbs, nouns, chengyu, etc.
I literally use it every day and recommend it to any people willing to learn Chinese quickly.
5- Netflix: to Perfect Your Chinese and Learn More Idioms
For those who have a Netflix account, did you know that Netflix has more and more movies and series in Mandarin? In addition, you can choose to pick English or Chinese subtitles, depending on your level.
What I like to do is to watch movies or series while I am in bed while using Chinese subtitles to practice both listening and reading, and then take a screenshot of every sentence I want to learn. When I don't understand a whole sentence, I switch it to English subtitles for a second in order to see the translation.
After watching a movie, I write down the sentences appearing on all the screenshots I took earlier in my notebook, so that I practice my writing and enrich my vocabulary at the same time.
Being myself a weekly user of Netflix, I recommend you to watch the movie "Dear Ex" with one of the best Taiwanese actresses, Hsieh Ying-Xuan, who won the Best Leading Actress award for this same movie.
Conclusion
Finding time to study Chinese is a big challenge, but with the internet, there are always ways to learn it.
- When you have a small break at work or at school, read a small Chinese story and write down some new vocabulary
- When you are taking the bus or the metro, watch some Chinese YouTube videos
- When you encounter a word you have never learnt before, check it on Pleco and add it to you bookmark list
- When you want to watch a movie, pick one movie in Mandarin
And finally, if you want to practice every aspect of the language, including speaking and grammar, try one free online Chinese classes demo with TutorABC Chinese. With certified Chinese teachers, you can enjoy a real Mandarin class like if you were in a classroom, but you get to choose when you take it, where you want.
LIKE THIS POST? JOIN US TO LEARN MORE!