IB (International Baccalaureate) is one of the curriculum international schools around the world follow. DP (Diploma Program) is a program for students age 16-18 to take before their university. Many IB schools offer Mandarin Chinese as a second language subject. The students will take a speaking paper/assessment before the end of the program, and we are going to share some tips to prepare for it in this article.
What is IB Mandarin Oral Assessment?
There are 3 levels in IB Mandarin as a second language: Ab Initio (for basic conversation learners) -> Standard Level (intermediate to advanced) -> Higher Level(Standard Level + some more advanced work). All of them require a speaking assessment as part of the grade results.
The oral assessment is usually an internal assessment, which means the school teacher will conduct the test in the school. S/he would record and grade it ,and then send the recording and grades to the IBO for checking and modifying.
The assessment is usually taken place in January - March, a couple of months before the external exam(reading/writing/listening) in May.
How important is it?
It weights 25% of the subject score. Also, since it is usually the first part of the grade the students would receive, the students desire a good grade badly. When students do it well in this part, they might feel more positive to get a 7 in the total grade.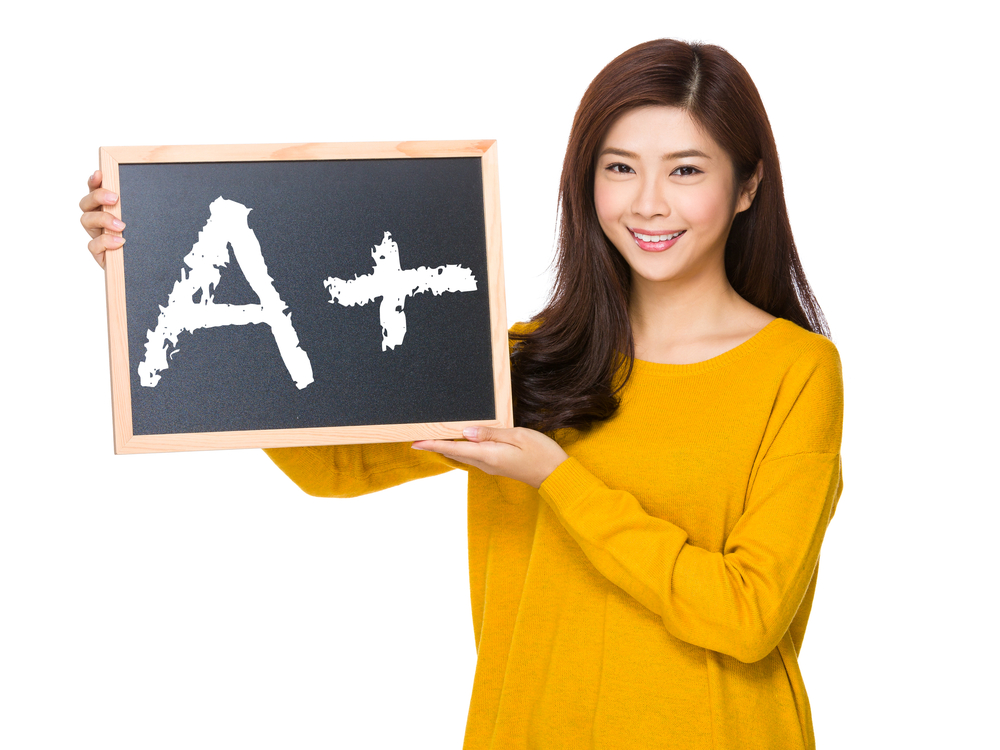 How to prepare for it?
- Read the guides
The subject guide is like the Bible of all IB teachers. Teachers use it to plan the lessons, to design the assessments, and to grade students. By reading it, you would know how you are going to be assessed and graded. It's important to know these before the assessment.
You don't need to read the whole guide, but definitely read about these 3 aspects:
1. What topics the course should be covering
Make sure you are familiar with all the prescribed topics. For example, Health, Global Issue, Travel etc. Your school teacher might not have time to cover all topics in depth, so it's always good to check if you are familiar with all the topics.
You can find out what the prescribed topics are from this article.
2. How the assessment going to be processed
How many minutes do you have to prepare? Can you take notes? Can you take notes in bullet points or whole sentences? - Check with your school teacher, or simply find the answers in the guide: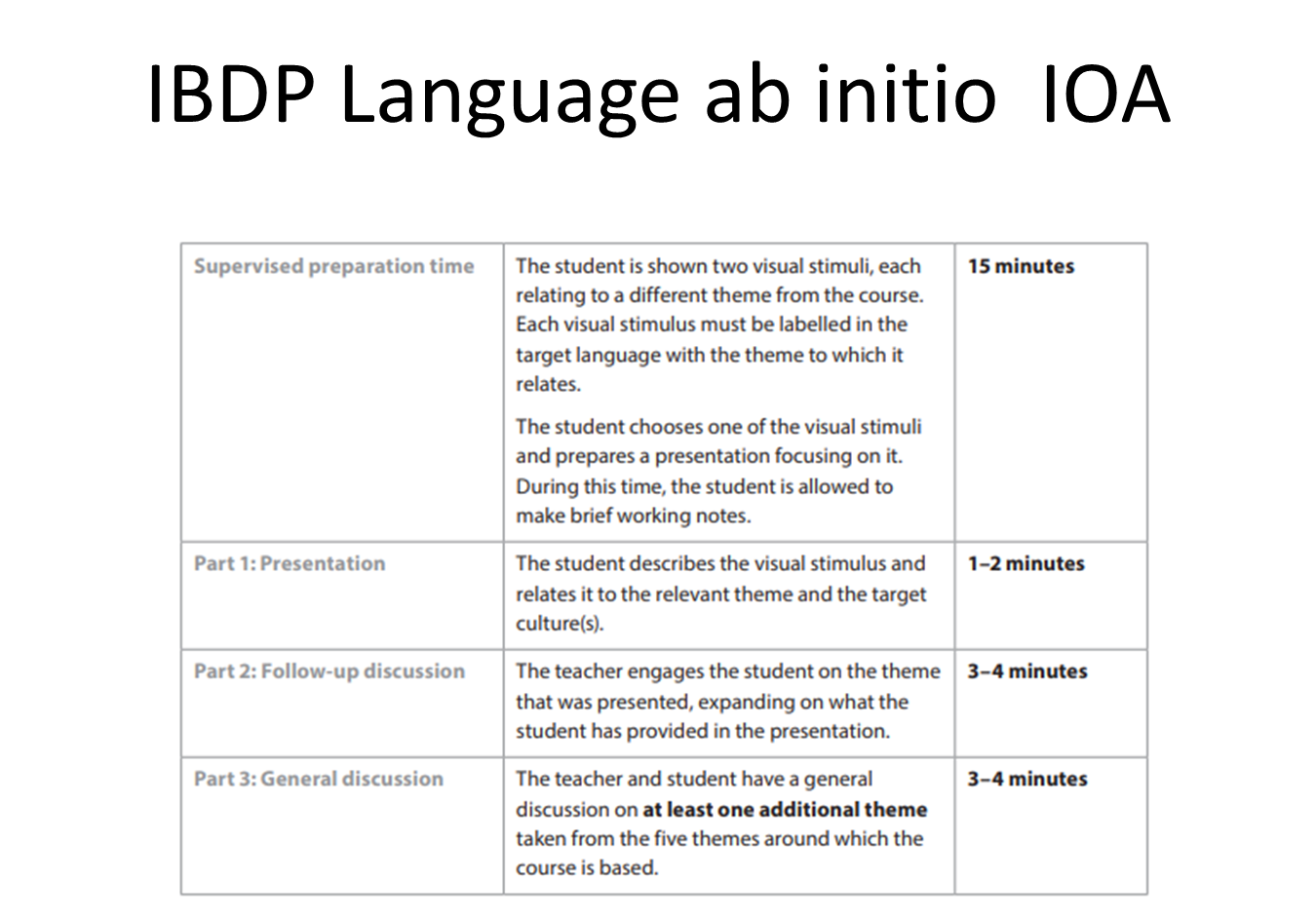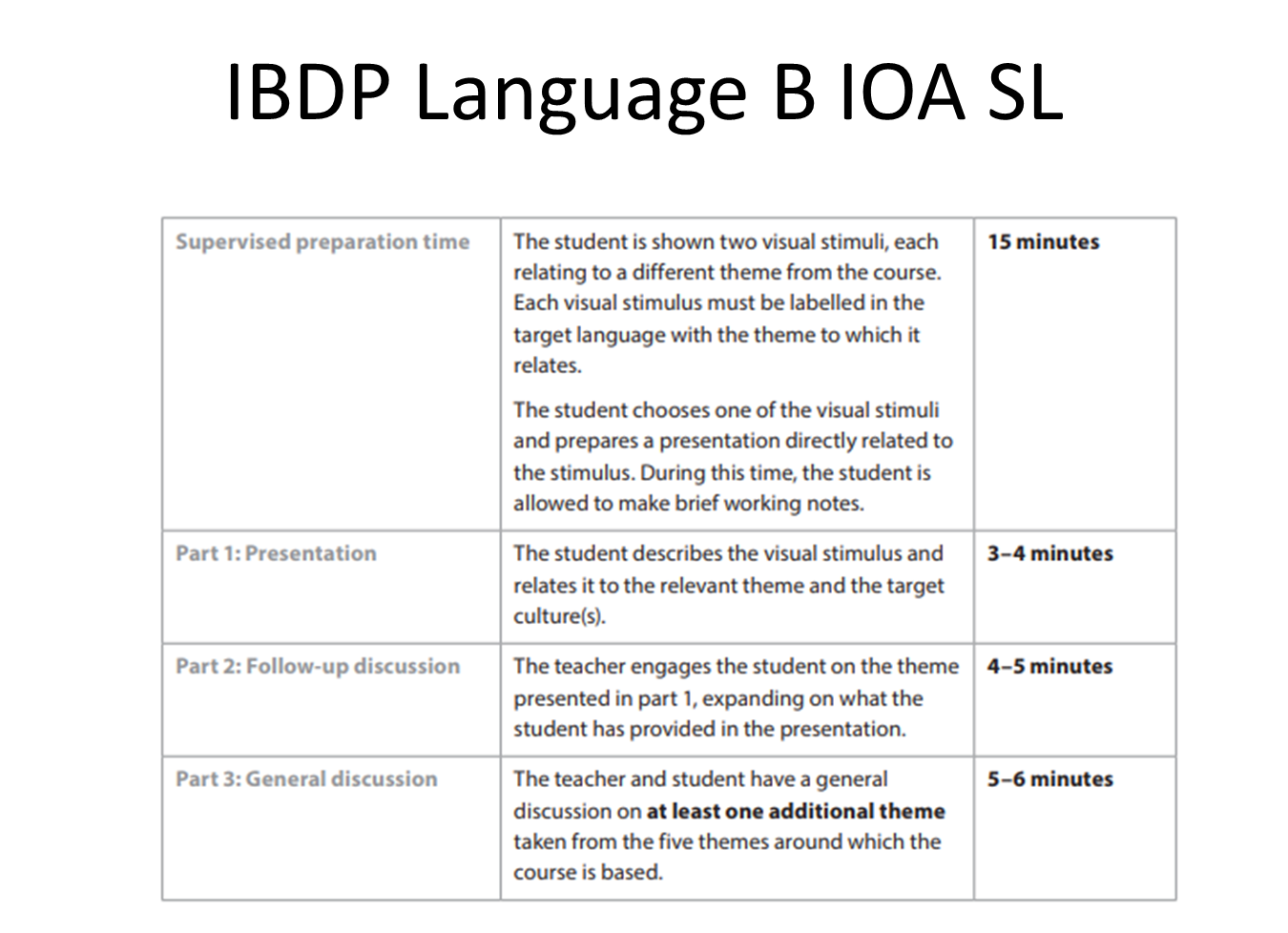 3. The criteria
This is definitely the most important part. What's the standard? What will they look for in your answer? What aspects are assessed?
Examiners basically mark paper according to these criteria. So, make sure you demonstrate all of these. We only show the highest standard of each rubric in the graphics below: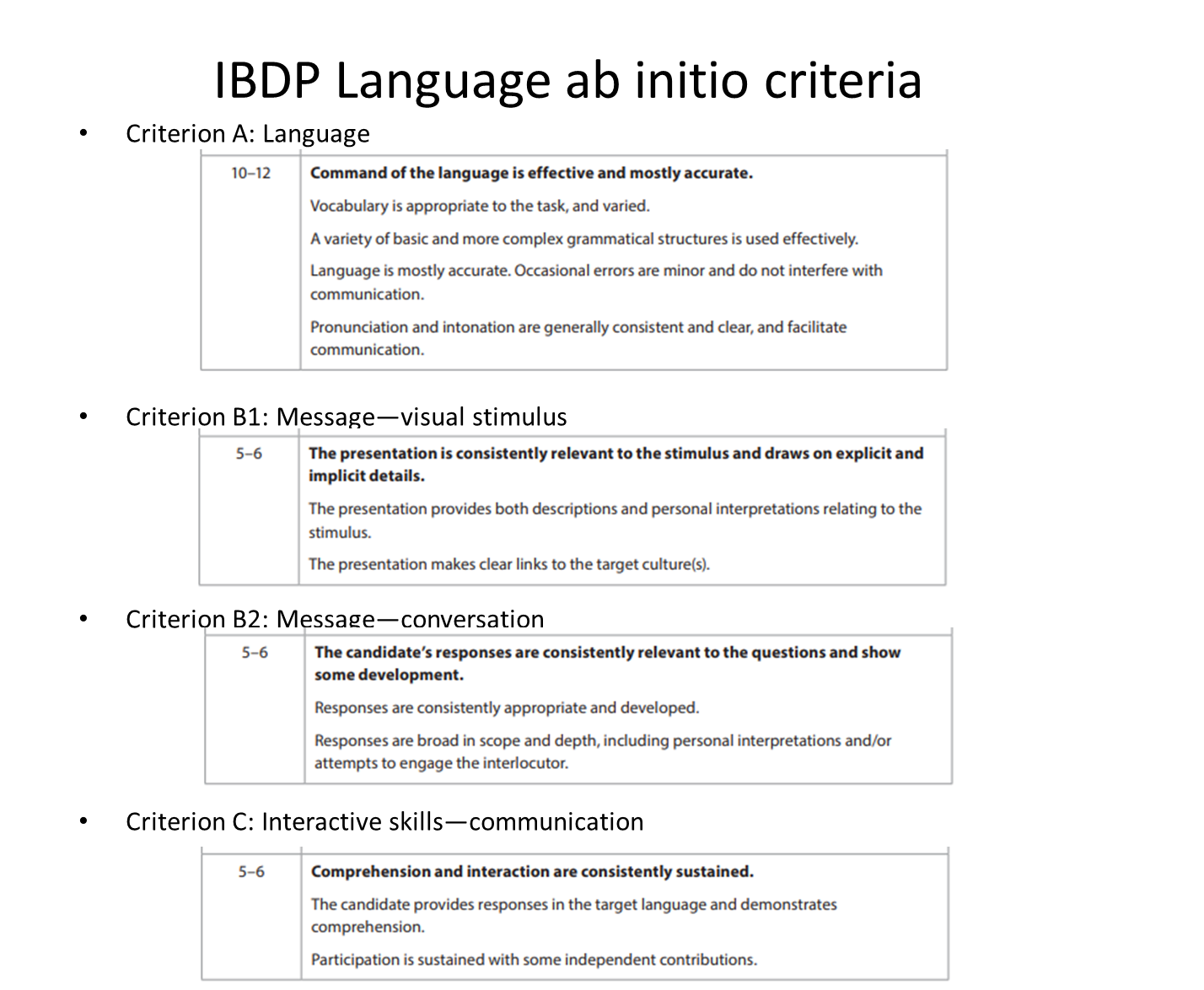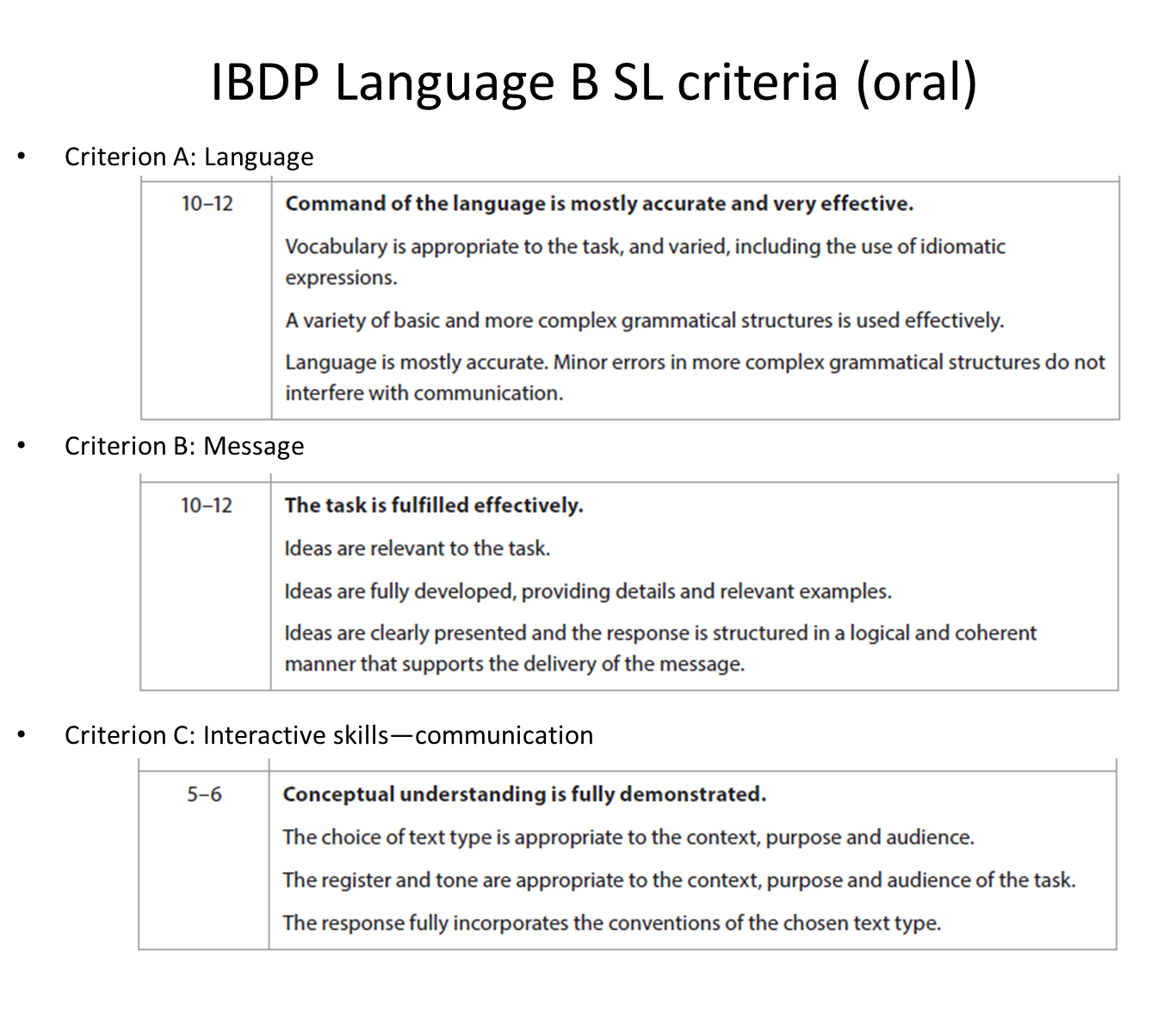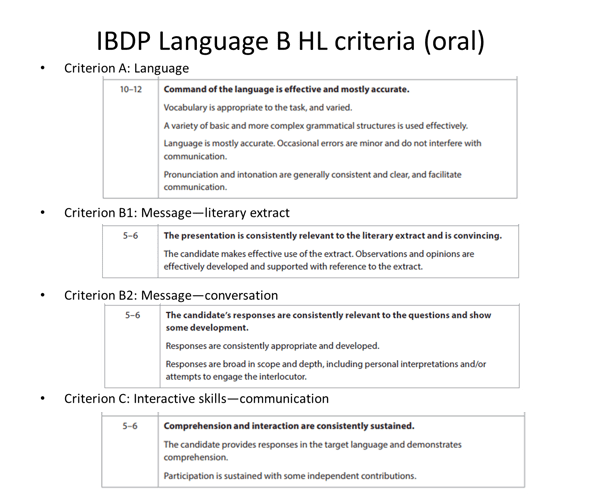 - Build up Your Language skills
You need to be at least fluent in this language to get a highest score. There are almost no shortcut except practicing a lot. But there are still some tips to prepare:
Memorize some useful sentences that could applied in almost any cases. For example, 照片的左边是... 右边是... ; 我估计他的心情是... ; 这让我想到自己的经验...
Use Quizlet or other flashcard tools to store your vocab and sentences, so that you can revise quickly before the assessment
Find pictures to practice just like giving yourself a mock exam. You can find pictures from some random image generator

s.


However, we actually need the pictures to be related to Chinese culture and IB concepts. Here are some places you could start and they are definitely related to Chinese culture/ lifestyle:
Pinterest (search "China daily life")
Shanghai-ist
Remember don't spend too much time looking for perfect pictures if you can't. You can actually imagine the pictures are a bit different! They are just something to inspire you, but not something you have to do perfectly.
Write down your answer(speech) to an essay and modify to a better version. - This is a very good way to improve your speech. Writing it down makes you think more thoroughly and remember it more clearly. Especially for those topics you think it's going to be chosen this year, it's very important you have some rehearsed contexts so you won't have "mind blanks" during the real assessments.

Practice with a tutor
Rehearsed speeches can help but real interaction/communication is the true key to ace any speaking test. So having someone to practice with is always essential. You could practice with a friend / language exchange buddy / tutor. Tutoring is probably the most efficient way among all, especially when you have other big subjects and assessments to prepare too.
In TutorABC Chinese, we have been helping students and parents for Chinese exams. Now we offer personalized tutoring online to build up kids Chinese skills effectively. You could simply sign up to ace the oral exam: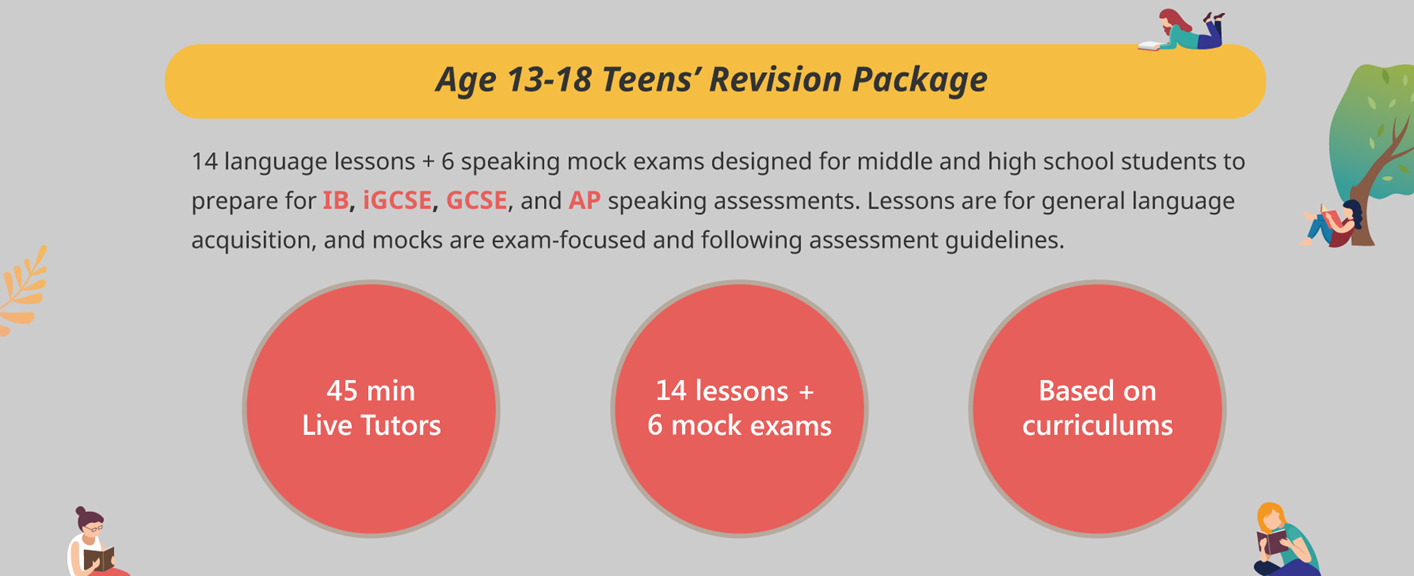 Prepare Oral Exam With UTORMING
Good Luck for your exams!