Image of Wangjing SOHO in Beijing
Out of China's economic boom has come a flood of ultramodern and abstract architecture designed to make Chinese cities look futuristic. Chinese skylines are often compared to science fiction movies like Blade Runner or Star Wars, and China is considered somewhat of an architectural playground. In 2014, President Xi Jinping had to call an end "bizarre" and "odd-shaped" buildings, stating that architecture should be economical, functional, and aesthetically pleasing, rather than unconventional and eccentric for shock value. Let's take a look at some of the most experimental futuristic designs that have cropped up along the bewildering skylines of major Chinese cities.
"Giant Trousers" CCTV Headquarters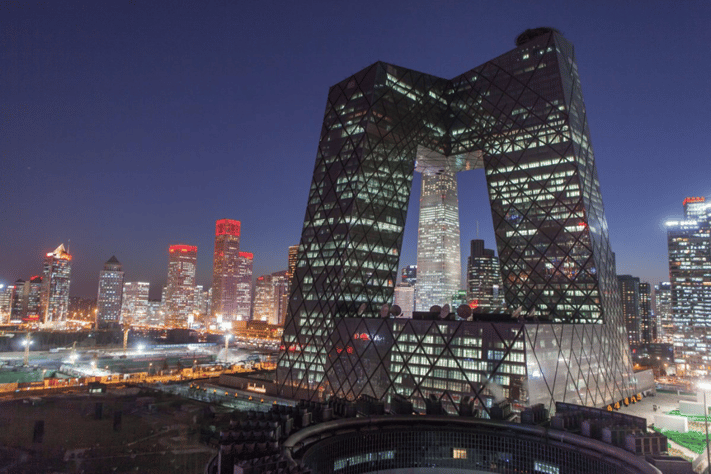 The China Central Television (CCTV) Headquarters is the most recognizable landmark in Beijing's Central Business District (CBD), known for its "pant-like" shape. Beijing locals call it "大裤衩" (dà kùchǎ), or "big boxer shorts," a nickname rumored to have been started by a taxi driver. The name has stuck, and Xi Jinping singled out the eccentric skyscraper that everyone is familiar with in his speech against "bizarre" architecture. Dutch architect Rem Koolhaas has defended his building as a masterpiece of cultural hybridization that, "could never have been conceived by the Chinese and could never have been built by Europeans." The building looks different from all angles because of its irregular shape, and is considered to have single-handedly ushered in a "Nouveau Weird Movement" in modern architecture.
Guangzhou Circle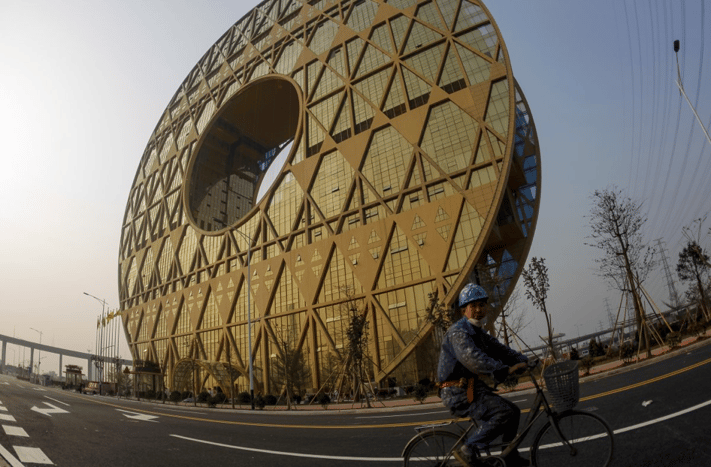 The Guangzhou Circle (广州圆大厦 Guǎngzhōu yuán dàshà) is an "urban ideogram," that, like Chinese characters, represents meaning through the use of an image. The doughnut shape of the structure resembles a set of double jade discs, which were an ancient symbol of royalty in the dynasty that ruled the Guangzhou area 2,000 years ago. Sitting alongside the Pearl River, its reflection in the water forms a figure eight, a lucky number in the ancient tradition of feng shui. The Guangzhou circle is the world's tallest circular building, and its fifty-meter diameter hole in the middle is an unprecedented area of space in architecture. The building is also known for standing as a contrast to the conventions of Western skyscrapers, especially with its distinctly Chinese meaning. It is home to the Guangdong Plastic Exchange, world's largest stock exchange for raw plastic material, and the headquarters of the HongDa XingYe Group.
The Giant Teapot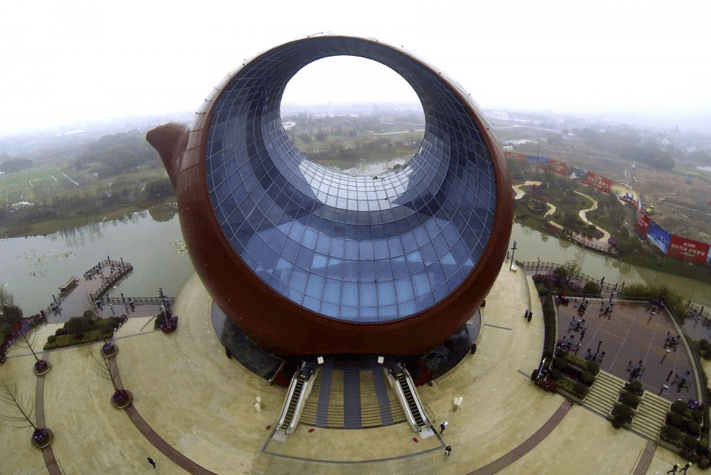 This 10-story rotating teapot is a tribute to the Yixi clay teapot artisan culture that existed near Wuxi city of Jiangsu province four hundred years ago. It functions as a visitor information center for the surrounding area, which is being developed into a "Tourism City" that will include a mall, outdoor theme park, show stage, interactive cinema, indoor water park, and two roller coasters soon-to-be the fastest in the country. Behind the project is property developer Wanda Group, run by China's richest man, Wang Jianlin, who narrowly beat Jack Ma to top the 2015 China rich list. One of Wang Jianlin's biggest goals is to "rival Disneyland," by providing a more distinctly Chinese experience to theme park goers.
Sheraton Huzhou Hot Spring Resort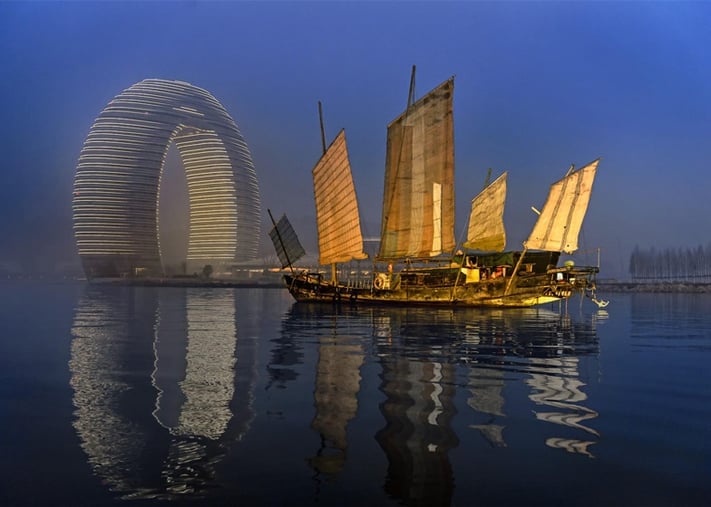 The Sheraton Huzhou Hot Spring Resort is modeled after the idyllic circular bridges one can find in traditional Chinese paintings. Chinese architect Ma Yansong was inspired by the traditional bridges depicted in old Chinese paintings, claiming that, "throughout China's history, people have always pursued a harmonious relationship with nature and this has become a major part of Chinese culture and tradition. Huzhou itself is a place famous for traditional ink paintings and splendid water views, and the arch bridge is one of the key elements of traditional architecture." The hotel lies on the Taihu (太湖 Tàihú) lake between Shanghai and Nanjing, and promises an ideal location for an authentic, yet modern, Chinese experience.
Galaxy SOHO and Wangjing SOHO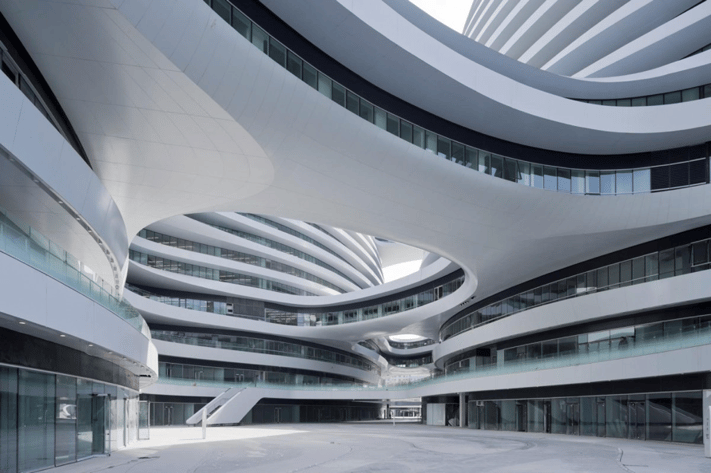 Galaxy SOHO and Wangjing (望京 Wàngjīng) SOHO office buildings in Beijing are some of the best examples of experimental modern architecture in China. Both designed by world-renowned Pritzker Prize winner Zaha Hadid, who described China as "an incredible empty canvas for innovation." Having worked in the Wangjing SOHO office, I had the opportunity to relish the futuristic vibe of the complex, which makes you feel like you're in Star Wars. Unlike some of the more monolithic ultramodern buildings that are imposing on the viewer, the Galaxy and Wangjing SOHO buildings are unconventional yet still very easy on the eye. Tourists flock from all corners of the country to take pictures of their egg-shaped and mountain-like towers.
Sunrise Kempinski Hotel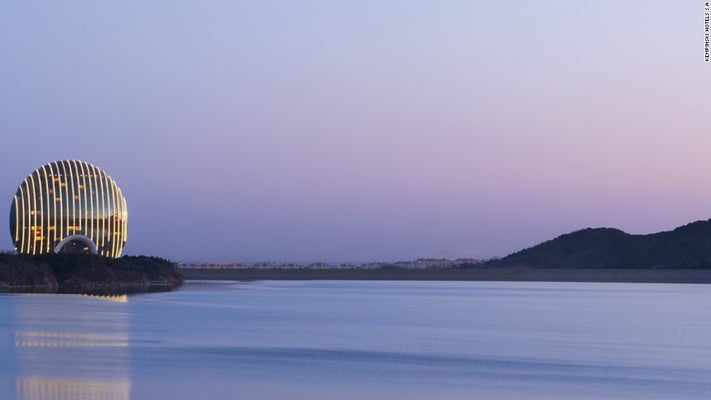 The Sunrise Kempinski Hotel in Beijing resembles a rising sun, evoking the state of China's economic ascent. The entrance is shaped like a fish's mouth, and from a side angle, the building looks like scallop, both traditional symbols of prosperity in Chinese culture. The fascinating design is accomplished with 10,000 glass panels, angled so that the building simultaneously reflects the sky, mountains, and water around it. At night, the building is lit up by hydroelectric-powered LED's, casting a powerful image by the water. Along with the Huzhou Hot Spring Resort, it represents an upward trend in China's appetite for five-star hotels.
Hangzhou Waves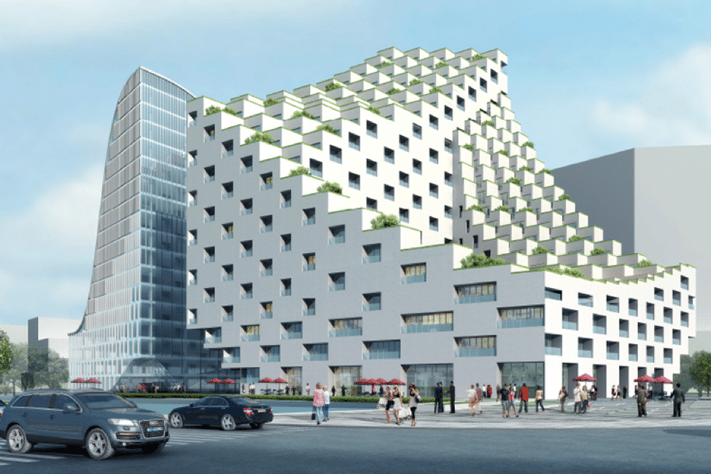 The Hangzhou Waves project will see the construction of a hotel and an office space in the financial district of Hangzhou. These two structures are unified by their similar ecological designs, which take advantage of natural sunlight to reduce the need for artificial lighting, and make use of green roofs beneficial to the surrounding air quality. The two buildings mirror yet contrast each other – one with a smoothly contoured shape, and one with a pixelated, abstract blocky look. The buildings will overlook one of the city's canals, reflecting the garden culture important to the city's cultural history and folklore.
Shenzhen Bay Super City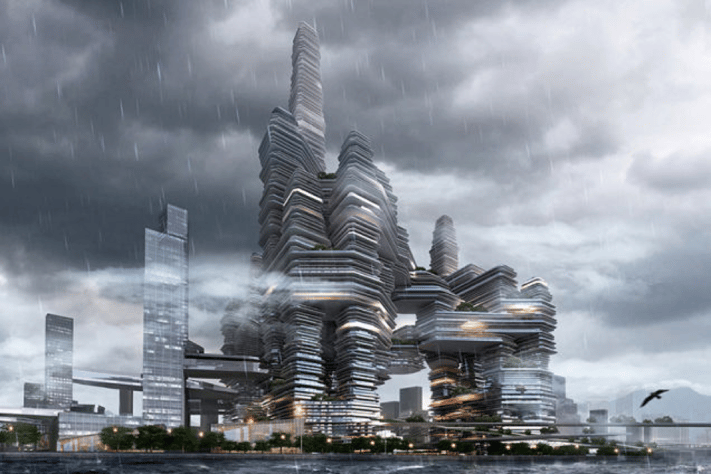 It looks like Xi's speech on "bizarre" architecture hasn't put a halt to all grandiose development plans in the country—as Shenzhen plans to build this ridiculous "city within a city." Shenzhen has long been one of the most innovative cities in China, being the special economic zone (SEZ). The city's choice of design for the Shenzhen Bay Super City, called "Cloud Citizen," communicates the ambitions of the city to continue its blistering pace of development. Cloud Citizen sports what would be the world's second largest tower, as well as innovative cantilevered towers that give the illusion that the building is either rising or crumbling (like a half-finished Death Star). However, what is most significant about plans for this structure are the ecological functions of the super city, which will be capable of capturing rainwater, and generating renewable energy from sunlight, wind, and algae. The building will also have an advanced air filtration system to cope with the surrounding area's smog. Even as office works labor away hundreds of meters up in the sky, they will be able to enjoy a bit of nature from the garden terraces that emerge off the irregular outcroppings of the cantilevered towers. A statement from the Cloud Citizen team claims that the super city represents "a strategy for how to build future cities capable of giving back more to the environment than they cost… giving character and hope to the vision for a greener future."
Want To Learn Chinese? Join us To Learn More!