First uploaded to Youtube in January 2015, Buzzfeed's video "Chinese People Try Panda Express For The First Time" has amassed over 11 million views. Clearly, not just foodies want to know how actual Chinese palates respond to what, for many North Americans, remains their standard for Chinese food.
In the video, four separate panels, two of them cross-generational, taste-test several of the restaurant chain's most popular dishes: egg rolls, chow mein, fried rice, and orange chicken. No consensus emerges from their discussion of the overall quality and authenticity of Panda Express' version of Chinese cuisine. The testers deem some dishes unpalatable, receive others with indifference, begrudgingly acknowledge that others are quite good, and reject other dishes outright because they simply don't smell right.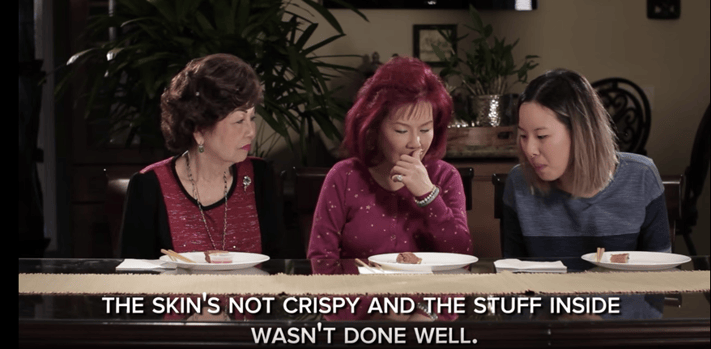 Perhaps most surprisingly, the younger participants in this experiment are more critical than their parents and grandparents. If Panda Express truly relied upon traditional Cantonese, Szechuan or Hunan recipes, you'd expect the seasoned diners to be more discriminating. Only on one or two occasions do the older tasters dismiss the food they've been served on the basis of it being "Americanized." But this accusation is a frequent refrain from the millennials.
The reactions of the taste-testers in this video raise questions about attitudes towards food in general. Maybe all those cooking shows, celebrity chefs, and daytime TV nutritional experts have fed us so much that we have become obsessed with what we eat. In the process, maybe we've forgotten just how subjective taste is, and, with it, just how contingent our definitions of authenticity are dependent upon our own personal experiences. Is there any method for objectively measuring the authenticity of Chinese food? If so, how might Panda Express rate?
History of Panda Express
Panda Express was founded over 40 years ago. Andrew Cherng, born in China but raised in the United States, opened his first restaurant in Pasadena, California in 1973. For almost a decade, Andrew and his father ran the Panda Inn while Andrew's wife Peggy pursued a career in electrical engineering. In the early 80s, the owner of a shopping mall in nearby Glendale offered Andrew space in his food court. Peggy came onboard to help plan this venture.
From the outset, the restaurant's menu was comprised of Chinese-American favorites. Panda Express has never claimed that their dishes authentically reflect the 8 regional culinary traditions associated with mainland China. Instead, the Cherngs positioned themselves as interpreters or ambassadors. They selected those ingredients, seasonings and cooking styles they felt would be both representative of Chinese cuisine and would appeal to the broadest audience.
Success Story
Fast-forward to 2016, and Panda Express has grown into a fast-casual dining empire. An ubiquitous fixture in shopping centers all over the world, Panda Express locations in Mexico, Dubai and, most recently, Japan. The Cherngs' 1,800 restaurants employ between 26,000 and 27,000 individuals, and the company reported revenue in 2015 in excess of $2 billion USD.
How can we account for Panda Express's massive popularity? The Cherngs' developed a unique business plan and have stuck to it. By establishing a position within shopping centers—the most lucrative retail real estate of the 1980s and early 1990s—Panda Express gained exposure to what the Los Angeles Times, in a profile of the company, dubbed a "captive audience." The Cherngs saw a trend, got in early, and made the most of the opportunities it afforded them.
That said, the Cherngs still had to carve out a niche for themselves in an industry where the majority of their market share is divided up among huge multinational corporations such as McDonalds and Yum! Brands. Thanks to Peggy's background in hardware and software design, Panda Express became an early adopter of computerized ordering.
A Recipe for Innovation
The Cherngs are not ones to rest on their accomplishments. They analyze their sales and watch demographics closely. Case in point: in 1987, Panda Express executive chef Andy Kao combined elements of Hunan cuisine and American comfort food traditions in concocting orange chicken. Love it or hate it (one Buzzfeed panelist described the meat as "sad," and another compared its overall flavor to "burnt soy sauce"), visitors to Panda Express have, over the years, made this deep-fried-then-stir-fried dish a staple on "Asian-inspired" menus everywhere. Best estimates are that Panda Express prepares over 70 million pounds of orange chicken every year.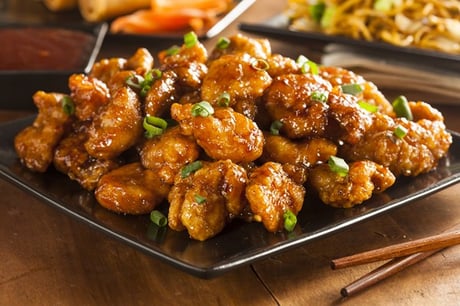 Panda Express has since opened an Innovation Kitchen, where they regularly test new recipes and explore how to make Panda Express' fare more appetizing to a 21st Century clientele. These consumers are increasingly concerned with sustainable practices, healthy options, and food that feels real. And they are not shy about sharing their opinions. But, as daughter Andrea Cherng, who oversees operations at the Innovation Kitchen, says: "There is an element that I believe, at least of my upbringing as an American-born-Chinese, is how parents love is through criticism. I think many of us are very used to the idea of always using criticism to get better. And, I think that is what we're doing at Panda—always using criticism, whether or not it is communicated out of love for us, to get better."
What is Authenticity?
Andrea's observation reminds us that, by focusing purely on Panda Express' menu, we risk overlooking the other ways in which Panda Express is authentically Chinese. Specifically, Panda Express is an expression of certain traits and values that are strongly associated with the Chinese character.
Both Andrew and Peggy Cherng are first-generation immigrants. In fact, Peggy was raised in Hong Kong and originally came to the United States in order to earn her college degree. The incredible success they have enjoyed is not completely unprecedented. It is the product of the kind of drive and emphasis on education many sociologists have observed in Chinese-American citizens (even if these studies risk promoting certain so-called "positive stereotypes.")
The scale may be different, but Panda Express is, like many traditional Chinese restaurants, still family-owned and -operated. Further, the Cherngs clearly value good corporate citizenship. They understand that their business fosters community relationships as much as it reaps profits. If you've ever eaten at Panda Express, you know that you can round up your bill and donate the difference to charity. To date, Panda Cares has raised almost $50 million USD for the health and welfare of children across the globe.
Ultimately, we come back to the question of the food. In August of this year, Panda Express began serving General Tso's Chicken, a recipe with documented American origins, at its restaurants. This may come as a disappointment to some hoping to someday be able to order xiao long bao (soup dumplings) or zha jiang mian at Panda Express. If their continued expansion and pursuit of new customers is any indication, The Cherngs would most likely consider such a move counterproductive: backwards-glancing rather than future-oriented.
The only valid comparison to the kind of Chinese-American cuisine that is Panda Express' specialty is another example of Chinese-American cuisine. Besides, the debate over whether Chinese-American cuisine is authentically Chinese or not has already been settled by historical circumstances anyway. The Chinese-American experience not the Chinese experience. The more pressing question, then, might be what makes any cultural expression authentically Chinese-American. And, ancillary to that, what influence Chinese-American culture has had and will continue to have on Chinese culture. Perhaps we will not have any answers until the day when Panda Express opens its first location in Beijing.
Want to Learn More Chinese? Join TutorABC chinese to learn more!