Top 5 Chinese Dictionary Apps
We review the best Chinese-English Dictionary Apps so you don't have to! Find out which apps are the best to supplement your Chinese learning!
---
When it comes to choosing a Chinese-English app, there are a lot of choices out there. Here at TutorABC Chinese, we decided to test-drive the best dictionary apps so you don't have to!
1. PLECO
Pleco is one of the most popular Chinese-English dictionaries in the app store. The app features a clean, fairly intuitive, easy-to-use design. In the same search bar, you can type either pinyin for Chinese phrases, or English words. The app is smart and immediately ranks the most commonly used and searched for phrases at the top.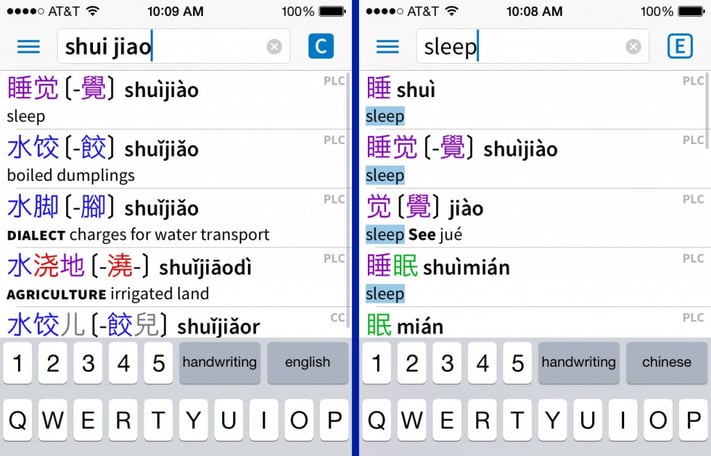 Pleco is also endorsed by polyglot Benny Lewis, founder of the largest language blog, Fluent in 3 months, who used it constantly during his trip to Taiwan.
Probably one of the most useful features of Pleco is it's "Clipboard Reader" feature. You can copy and paste any text you see online into the feature. Just tap on the word you're not sure about, and the translation will appear, along with the pinyin.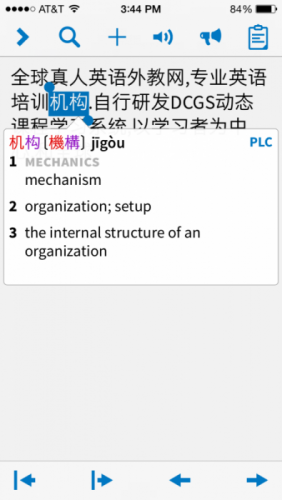 I did get a little lost looking for the "handwriting feature," which allows you to draw characters in order to look them up. This feature is not free for iOS users, and costs some additional money as an add-on (although iOS users can take advantage of the native handwriting input keyboard.) This Pleco feature is free for Android users.

This would be a good investment for anyone traveling to China, so you can draw in characters you are unsure about.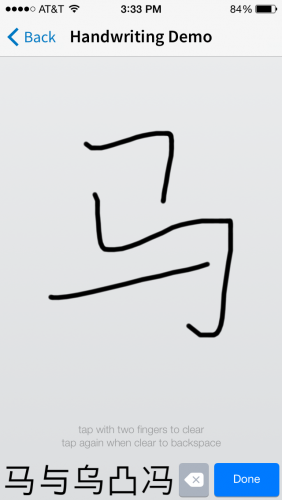 Another cool add-on feature Pleco has is the OCR (optical character recognition) feature. This allows you to use the phone's camera and scan it over some Chinese text, like a menu for example. The app will recognize characters via the camera and define them.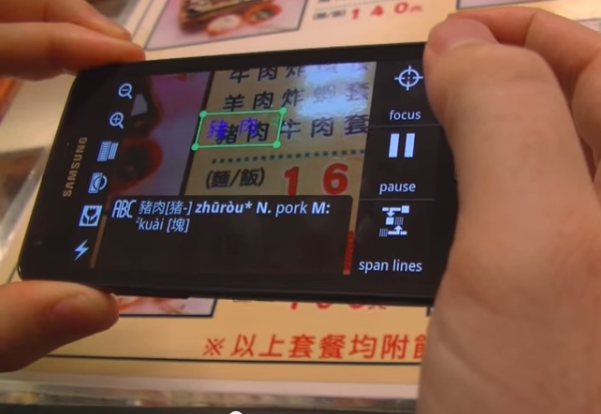 2. HANPING APP
Hanping is the app that we wish was available in iOS. It offers a chic, colorful design and most importantly, a free Chinese handwriting recognition tool.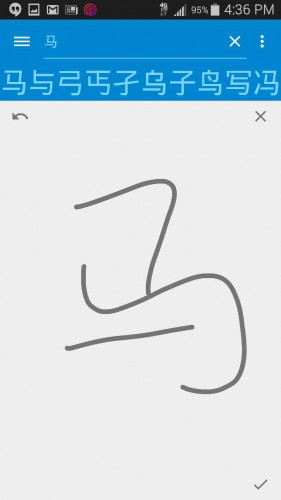 As far as we can tell, Hanping does not offer a sentence translation tool.
If you want to pay for the Pro version, it also offers the same OCR as Pleco, allowing you to take pictures of Chinese words you don't know and the App will find the matching character and definition.
3. LINE DICTIONARY (FORMERLY NCIKU)
The famous Nciku online dictionary was acquired by Line (a group messaging app similar to WhatsApp) at the end of 2014. It appears to be replaced by a sub-par version of itself.
Line Dictionary offers Chinese-English, English-Indonesian, and English-Thai dictionaries.
One nice feature about Line Dictionary is the "Sentence Parser", similar to Pleco's "Clipboard Reader" feature. You can paste an entire sentence in Chinese and it will "analyze" it, reorganizing the sentence with spaces and pinyin so you can better read it. However, unlike Pleco, this feature does not give you the meanings of each phrase. It only gives you the definitions of some key words in the passage.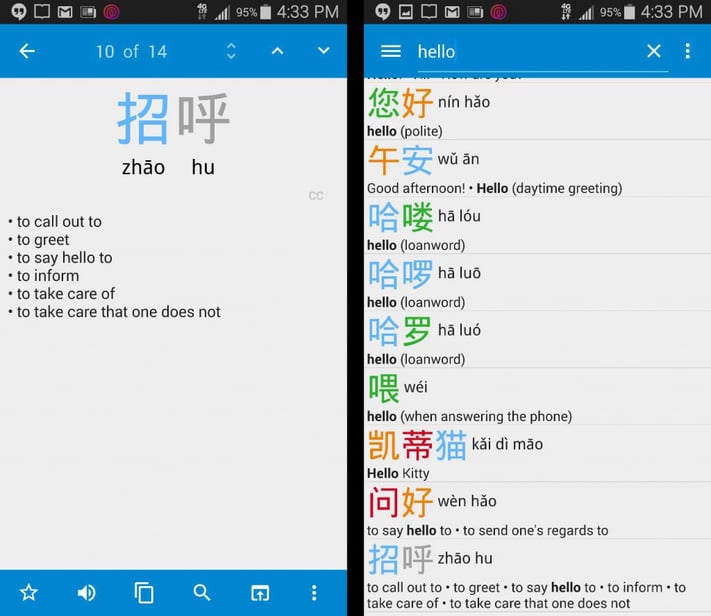 Line also offers daily phrases and quotes for those of you who are studying Chinese.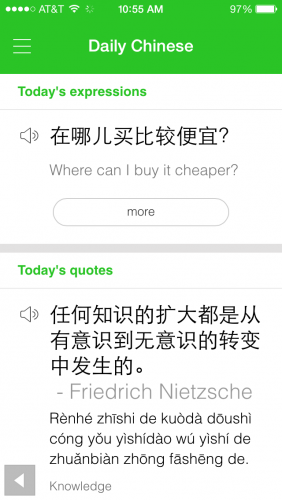 4. YOUDAO DICTIONARY
YouDao is the Merriam-Websters of Chinese dictionaries. While it may be hard to use for beginners and intermediate speakers, it's perfect for advanced Chinese learners. Keep in mind that YouDao was made for Chinese users.
YouDao's main function is similar to Google Translate, allowing users to look up Chinese phrases and their meanings in English. This works both ways; users can type in English phrases and find their meanings in Chinese as well.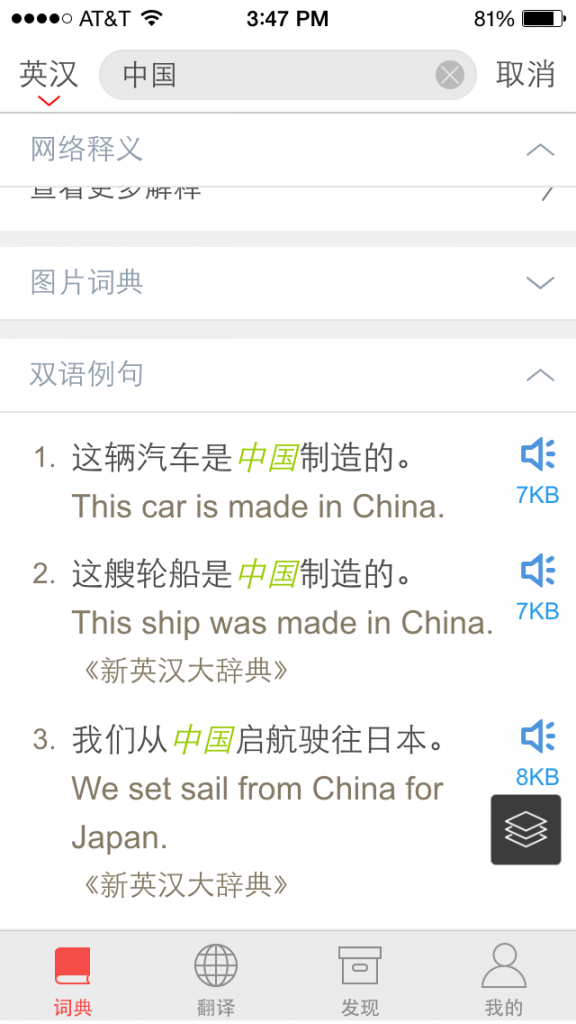 If you type a Chinese word, YouDao also includes the Chinese definition for that word, very similar to Dictionary.com. It also includes example sentences in both English and Chinese.
YouDao has a powerful English-to-Chinese translation tool, allowing you to translate full sentences accurately. This is great for Chinese learners seeking to expand their vocabulary with more advanced phrases.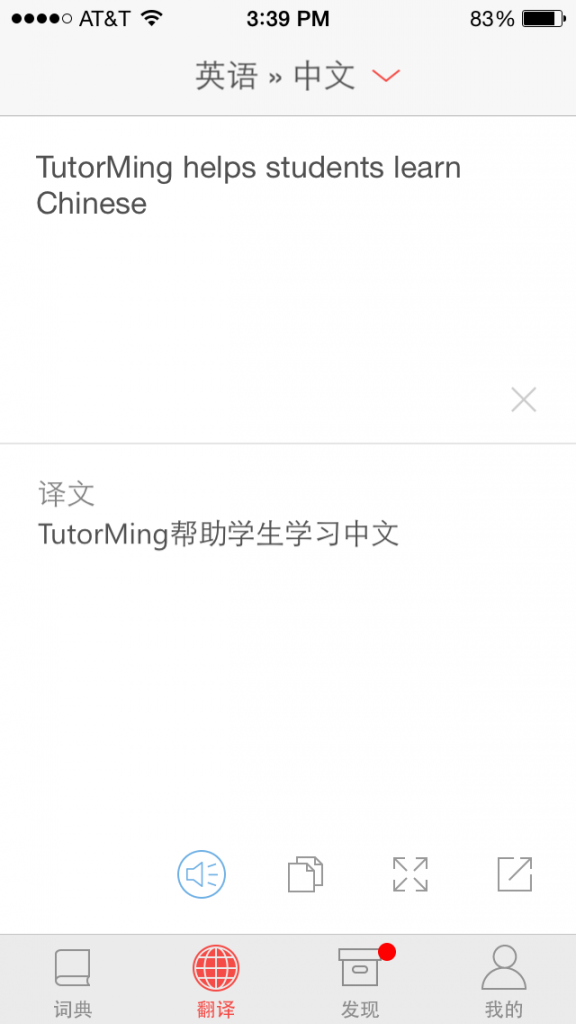 Unfortunately this tool does not work the other way around, as YouDao does not have an Chinese-to-English translation tool for sentences. However, as previously mentioned, single English words and phrases can be translated into Chinese via the Dictionary tool.
Besides English-to-Chinese, YouDao also offers Chinese-to-Japanese, Chinese-to-Korean, and Chinese-to-French dictionaries.
5. GOOGLE TRANSLATE
Of course, everyone already knows of Google Translate. The easiest way to find out "how to say ___ in Chinese" is to enter it in Google's search bar. The translation will automatically pop up. Google Translate is great for phrases and short sentences.
It offers a free handwriting tool as well, which is a huge plus in our book.
A newer feature the app has is the OCR tool, however we found it to be a little faulty when it came to certain font types.
The Google Translate app earns major points for being completely free.
Keep in mind that Google Translate will do exactly the bare minimum - translate. If you want an actual dictionary with sentence examples and in-depth definitions, maybe this shouldn't be the only app on your phone.


HONORABLE MENTIONS (NON-APPS):
TASTY MANTOU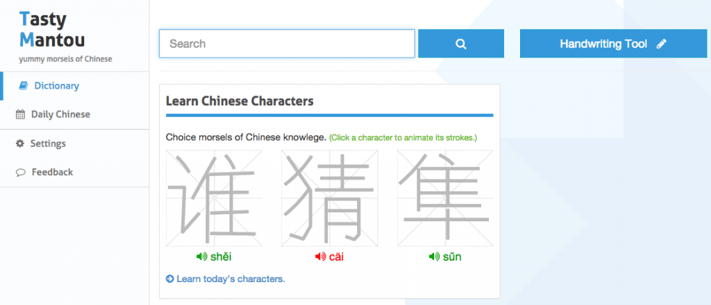 Unfortunately, Tasty Mantou is not an app, however it does provide a free handwriting feature for writing Chinese characters you aren't sure about. This is a great resource for those who need to look up unknown characters and don't feel like shelling out the extra money to buy the feature in Pleco or Hanping. In our opinion, the Tasty Mantou website captures some of the former glory of Nciku.
HANZICRAFT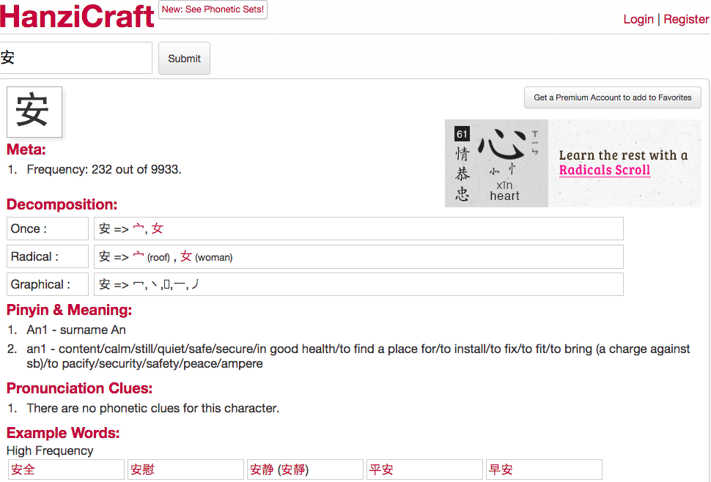 HanziCraft is a great resource for those of you interested in the specific breakdown of radicals and strokes in Chinese characters. You can search for a certain character, like "安" and see the different components.
HanziCraft will also provide example phrases and uses of the character, in both traditional and simplified Chinese.
While the website is slightly dated, it's still a valuable resource for those that are more interested in etymology of Chinese.
TutorABC Chinese Pinyin App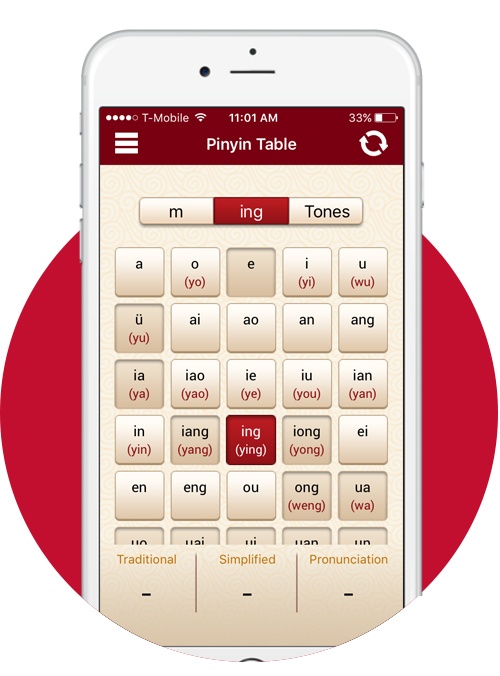 While we have yet to roll out with a Chinese dictionary app, we hope our Pinyin will be helpful in teaching you how to pronounce new Chinese words. You can create different sounds with consonants and vowels, and practice Chinese on the go. Read more about TutorABC Chinese's Pinyin app here:
We hope that was helpful, and that you use these resources to supplement your Chinese learning! Did we miss any apps? Let us know what you use to study in the comments section below!
Update: An earlier version of this post stated that Pleco's handwriting feature was not free. It is, in fact, free for Android users. A correction has been made.
ABOUT TUTORABC Chinese
Founded in 2004, TutorABC Global, the parent company of TutorABC Chinese, created the first commercially available synchronous learning portal in the world. TutorABC Global offers world class Chinese tutors at TutorABC Chinese. For English learning, it offers TutorABC, and tutorJr.
Like this post? Join uS to learn more!