What is GaoKao: A Look At China's Most Important Exam
Chinese students must achieve high scores on the college entrance exam to gain admission into universities. This can and will change their lives.
---
Right now in hundreds of cities in China, over 9 million students will sit in for the most important exam of their life, known as the GaoKao.
Think of it as a monster-scale SAT exam, but with much higher stakes.
For many Chinese students, it is the only way for them to get into universities. Students are ranked based on their combined GaoKao scores. In a country where getting a degree is required to obtain a good job, the GaoKao is seen as a make-or-break opportunity.
Those who achieve poor scores and do not get into their dream school often spend another year studying and sit for the exam again.
High Pressure Environment To Obtain High Scores
The higher the Gaokao score, the more likely a student will gain admittance into the most prestigious universities in China. Many students have spent the last 2-3 years specifically cramming for this exam.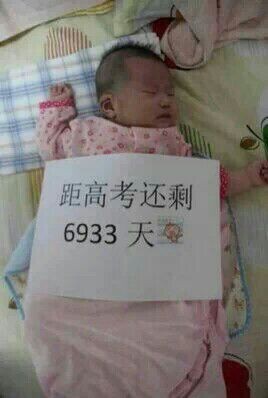 The paper reads "6933 days until GaoKao."
Related: Chinese Education System vs. U.S Education System
Because of the high stakes, GaoKao has come under fire for multiple cheating incidences and urban biases. Last year, education officials in Inner Mongolia had to disqualify over 1400 students for "illegal GaoKao immigration." Since the region is less-populated, the passing grade for GaoKao is lower than it is in metropolitan cities, so many students flock to its testing centers.
Cheating devices and "proxy" test-takers are also quite common, despite the GaoKao being tightly policed. In fact, some testing centers in China have even used drones to detect unusual radio frequencies.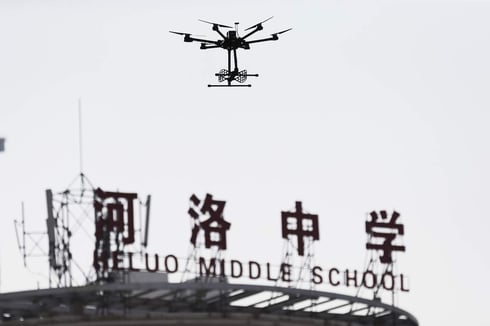 The Structure And Scoring of GaoKao
The GaoKao (also known as the "College Entrance Exam") is administered every year around June 7th – 9th in Mainland China. It tests a total of 4 subjects (three mandatory subjects and one elective), which are the following:
Chinese Language and Literature
The test is scored out of 150.
Reading comprehension of modern Chinese literature as well as classical Chinese literature is required.
The test has one essay portion.
Math
The test is scored out of 150.
Multiple choice and fill-in-the-blank math questions are included, along with short-answer problems.
Foreign Language (usually English.)
The test is scored out of 150.
Includes listening comprehension, reading comprehension, and an essay portion.
And one of the following, depending on the student's choice:
Science
The test is scored out of 300.
Includes questions on physics, biology, and chemistry.
Humanities
The test is scored out of 300.
Includes questions on history, geography, and political science.
Criticism of The GaoKao
Since GaoKao is known as a one-shot opportunity, many criticizers of the exam vote to abolish it for being a brutal and harsh experience for the students. Teenage suicide rates tend to rise during the time of the GaoKao and when GaoKao scores are released. A few years ago, the following photo was posted on the internet which ignited controversy about GaoKao and the mental pressure it puts on students: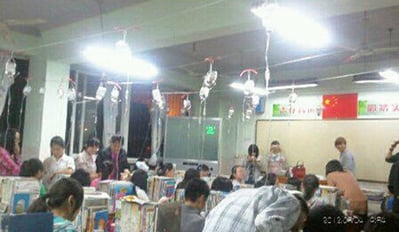 Students in China study for GaoKao while hooked up to I.V drips.
What happens to those who tank the exam? Many cannot afford to repeat another year at high school, and choose to "打工 (dǎ gōng)", which means "work." They often take low-paying working class industry jobs that have little room for advancement, and end up spending the rest of their careers there. With this bleak future in mind, it's understandable why there is so much pressure on both students and their families.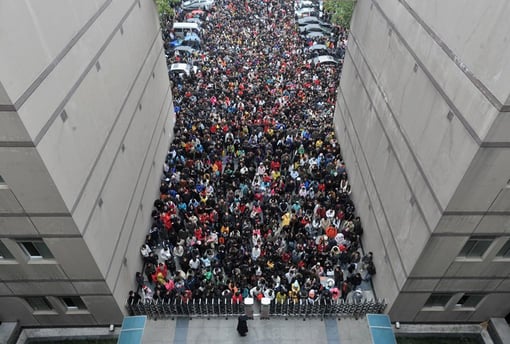 Parents waiting for their children to come out of GaoKao examinations. Image via Reuters.
Teachers are under a lot of stress to help their students gain admission into universities. Education reformers claim that teachers spend much of their time giving students practice exams and going over exam material, as opposed to teaching concepts and critical thinking. Thus, GaoKao has been criticized for churning out "robot" students, who excel at standardized testing and following instructions, but are not innovators.
At the same time, proponents of GaoKao argue that the current testing model is the fairest way to ensure that students of all walks of life and backgrounds can have equal opportunity to get into universities. Adding "western" components to college admission, such as extracurricular achievements, may give wealthier schools an unfair advantage as they have the funds to offer those activities.
At the end of the day, everyone agrees that the students going through GaoKao deserve support during this tough ordeal. Even world-renowned scientist Stephen Hawking posted words of encouragement on his Weibo (Chinese version of Twitter.) The post, which is in both English and Mandarin, has racked up over 290,000 likes and 125,000 shares in 10 hours.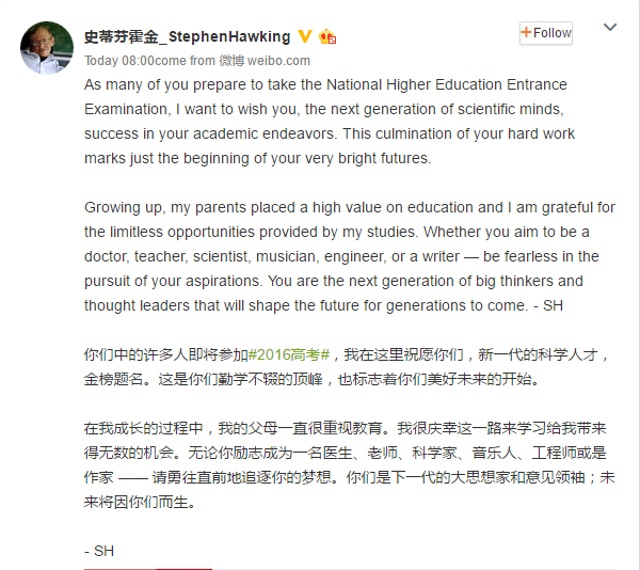 We wish all the students going through GaoKao good luck, and hope they achieve their dream scores!
Learn Chinese with a student-centered, no-pressure approach. Try NOW!