The annual, Victoria's Secret Fashion Show, famously dubbed "The Sexiest Night On Television," aired on CBS last night. This year, Victoria's Secret made a decision to appeal to the Chinese market. And it wasn't exactly subtle.
For example, the lingerie brand chose to open the show with a blonde semi-naked model with a giant Chinese dragon wrapped around her.
The section, dubbed "The Road Ahead" was intended to be a "multicultural dialogue" according to Sophia Neophitou, the brand's creative director. However, "multicultural" seemed to translate to "non-white", as the models walked down in the runway in predominantly Asian, African, Latin American and Indian-featured decorations.
And the Chinese-inspired elements seemed to be especially plentiful.
Models had Chinese knots as tassels hanging from their bodies, and many of them wore Chinese-embroidered boots. Chinese buttons and pieces of the qipao or cheongsam, a Chinese-style dress, were also in several designs.
(Images below via Getty Images.)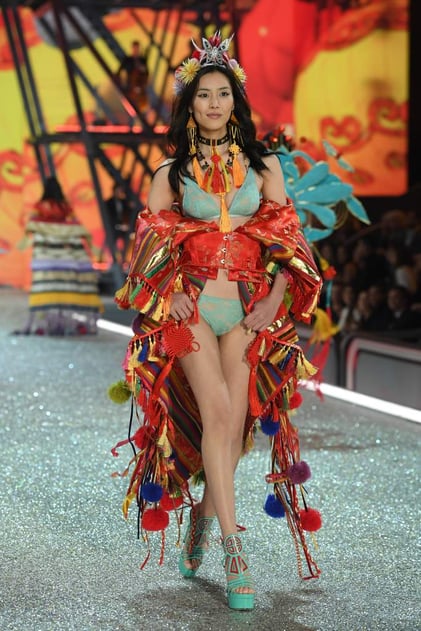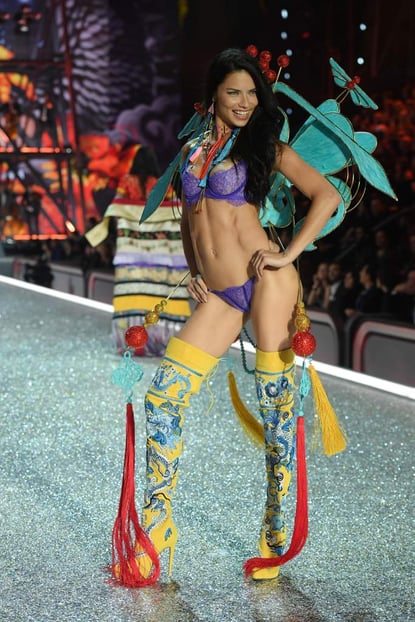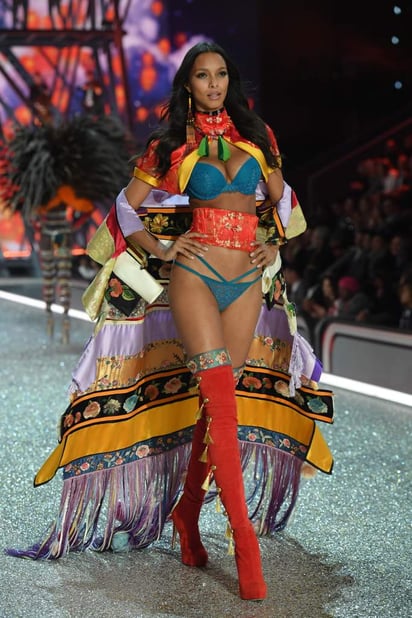 However, the Chinese internet was not too thrilled about these designs.
"Victoria's Secret's "Chinese style"… is the ugliest "Chinese style" I have ever seen…" said one Weibo user. (Weibo is China's version of Twitter.)
"Is this what other people think China looks like?" said another.
"If you don't understand Chinese culture, don't use it. It stings my eyes." said user L周哈哈H.
"Chinese style is more of a subtle beauty, like flowing water. Even when vibrant colors are used, this backbone should not be lost, and foreigners probably don't get this."
However, Chinese netizens praised the inclusion of more models of Chinese descent. A record of 4 Chinese models walked the runway this year, twice as many as last year. Multiple photo sets of the four Chinese models were shared quickly across the internet. On Weibo, netizens are already dubbing them "中国四美 (zhōng guó sì měi)" or "The Four Beauties of China," a reference to the four famous women of ancient China that managed to topple regimes with their beauty.
"I only have eyes for He Sui" said a Weibo user.
"Liu Wen's legs are so long and her dimples are beautiful!"
"Maybe it's the Chinese economic growth that has helped Chinese models onto the international stage," mused another user.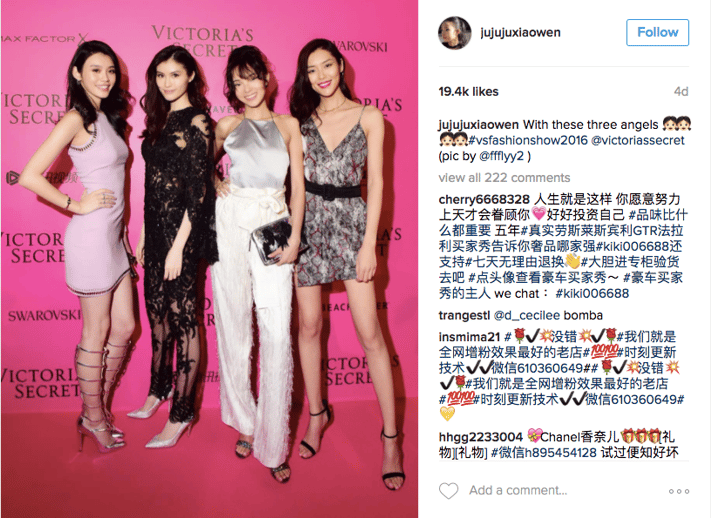 It is a conscious decision on behalf of Victoria's Secret to incorporate Chinese themes and models in the show. Just last year, the brand tentatively dipped its toes in China by launching its makeup and fragrance line in stores in cities like Shanghai and Shenzhen. The bras and panties are set to launch at the flagship store in Shanghai this year. (Shanghai Daily)
The brand was eager to showcase the Chinese faces in this year's lineup, posting the following photo to their official Instagram with the Chinese greeting, "Ni hao!"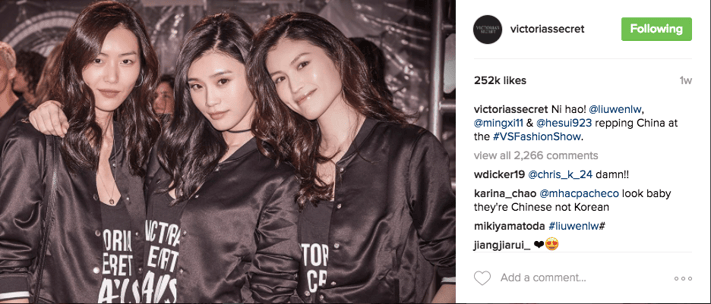 The luxury lingerie market is rapidly growing in China, estimated to be an 18 billion dollar market by Reuters. Other foreign brands such as Italy-based La Perla are looking to expand into this space by opening more international branches. Culturally, the Chinese consumer has favored garments that are more functional and utilitarian, according to Tim Brasher, former executive of La Perla. Since Victoria's Secret's undergarments skew towards frilly and embellished, it makes sense that Victoria's Secret would try to warm the hearts of their potential customers with a showy attempt at familiarity.
Parading a Chinese dragon down the runway like a garish prop is not the way to get your foot into China's door. Employing models that look like them, however, may be a much more elegant way of gaining entry to the market.
Want to learn Chinese for business? Join uS to learn more!