The Chinese government has invested much more than any other country in solar, making its top solar companies the dominant players in the market. Although China is also the world's worst carbon polluter, last year it became the world's biggest solar power consumer and producer, surpassing Germany's 38.4 gigawatts by generating 43.2 gigawatts of solar capacity (one gigawatt can power 300-700 thousand homes). Those 43 gigawatts accounted for a quarter of global solar capacity, and China is continuing to expand its renewable energy infrastructure at blistering pace. While it remains to be seen if it can be done efficiently, Chinese government officials have set their sights on an international network of Chinese renewable energy infrastructure, which would eventually generate enough power to literally run the world.
Capacity at All Costs
China's 13th Five-Year Plan announced the country's intent to add 20 gigawatts of solar a year to the grid, tripling total solar output to 140 gigawatts by 2020. In the first half of 2016, China already added 20 gigawatts, which is about three times the amount added in the same time last year. China has injected so much money into the solar industry that the US solar market stocks have crashed, and many US firms look to continue to struggle through a sour investment environment in 2016. Meanwhile, Chinese companies like JA Solar, Jinko Solar, and Trina Solar top the industry competition, outperforming even the ambitious targets set by their own government planners.
Most of China's solar panels are set up in uninhabited areas such as the Gobi Desert, rather than on the rooftops of homes and businesses as they usually are in the US. The Huanghe solar farm in the Qinghai area of the Tibetan Plateau, sports four million solar panels. In urban areas, China has long taken advantage of rooftop space for solar water heating units, which can be seen propped up on the top of almost every Chinese household, urban or rural. China accounts for around 70% of solar water heating worldwide.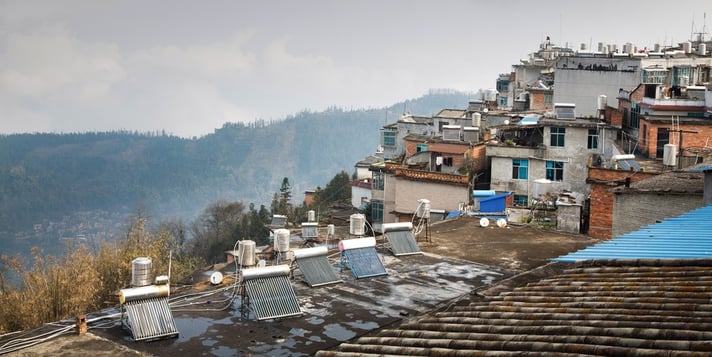 However, there are worries that China's aggressive solar industry policies are causing dangerous problems of overcapacity, as has happened in many other Chinese industries. An estimated one-third of solar panels in Gansu province, and over a quarter in Xinjiang province, went idle last year due to the overcapacity of solar farms. Because most solar farms have been built in remote locations, not all of the capacity generated by the farms can be efficiently consumed by utility companies.
Sidelining Coal
One of the major motivations for the government to back renewable energy is to deal with pollution problems. During the wintertime, most northern Chinese cities use coal to heat homes, the emissions from which cover cities like Beijing in thick blankets of smog. While green energy needs to be scaled before China can end its dependence on coal, the development of solar over the past few years has led to some noticeable progress. In 2015, imports of coal to China fell 30.4% year-on-year, while aggregate coal consumption dropped 3.7%. Further cutback is expected in coal imports this year. Collectively, wind, solar, nuclear, natural gas, and hydropower already account for nearly 20% of China's energy production, and China intends to continue to replace a further 20 gigawatts of coal capacity before 2020 (twenty large coal power plants). So far, the measures China has taken to make solar competitive with coal look to be living up to the commitments made during Paris climate talks. Although China is reliant on the dirtiest power generation on the planet, its is currently doing much more than the United States to transform the energy economy.
Future Infrastructure Expansion
Global electricity markets are transforming faster than analysts expected, benefiting the most competitive manufacturers in the industry, Chinese solar companies. Developed markets, in Japan, the United States, and Europe have demonstrated strong momentum, particularly Japan, which has taken to solar in the wake of the Fukushima disaster. Elsewhere, emerging markets have been growing rapidly, with India, Thailand, Chile, and Mexico proving fertile grounds for cheap Chinese solar panels. Chinese companies have used the profits boosted by overseas demand to continue pursuing foreign markets through mergers and by building factories abroad. Exports are vital to the plans China has for developing its solar infrastructure because of the overcapacity facing domestic manufacturing plants and grid-connected solar farms.
The ultimate goal, authorities at the Stage Grid Corporation of China's (SGCC) Global Energy Interconnection (GEI) project say, is to create a $50 trillion global energy infrastructure network. The network would be based on solar farms in equatorial areas of the world and wind farms lining the arctic circle, unified by borderless grid infrastructure. In its rise to becoming an economic power, China has gained a reputation for infrastructure engineering (since 2000, they've laid down more concrete than the US has in its entire history). Authorities at the SGCC argue that Chinese infrastructure is the best chance the world has at making a timely switch to clean energy, and extoll that if we adopt clean energy at a pace of 12.4% per year worldwide, we will be 80% renewable by 2050.
Related: How China is Pushing Innovation in Space
Whether the SGCC's goals are met with increasing global demand remains to be seen, but China looks on course to be living up to its ambitious goal of reducing emissions by a whopping 60% before 2020 (a huge statistic considering China is the world's biggest emitter of carbon). Advancements in material production and sun-absorbing technology promise to make solar as cheap as coal soon, and it was just two months ago that the Chinese government reduced the subsidy on solar (formerly 1 RMB per kilowatt hour) to account for solar's increasing economic viability. Buoyed by higher profit margins, Chinese solar companies definitely have the capacity to lay down solar infrastructure necessary for the world over the next 35 years. However, the Chinese government is going to have to increase its efforts to purchase solar farms from its solar companies if they are to be able to overcome their problems of inefficiency and overcapacity and continue to flourish.
WANT TO LEARN CHINESE? JOIN US TO LEARN MORE!